🐴
Natural products
for Horses
Herbs for Horses

Herbs are an important part of every horse's diet. The variety of medicinal and seasoning herbs on natural pastures is very diverse. Unfortunately, due to increasing agricultural use, this diversity is steadily declining. The hay offered usually consists of fatty grasses and only a few valuable herbs that are necessary for horse feeding. Learn here which herbs are important for horses and how to supplement horse feed with natural herbs.
Horse herbs and ready-made herb blends can be purchased as feed supplements from good specialty stores. Whether you choose ready-made herb blends or special individual herbs, herbal feeding is an important part of horse feeding and helps keep your beloved horse healthy. Of course, you can also mix your own herbs for horses. It is important to inform yourself adequately about the functions in the composition.
In the summer season, many tasty and valuable herbs can also be found fresh in the pasture. Commonly found is the plantain, which is known as a medicinal herb for the respiratory tract due to its antibiotic effect. Wild thyme or also called "quendel" can often be found on alpine meadows and rocky slopes. However, in winter, the supply of fresh herbs is scarce. Therefore, it is important to supplement horse feed with herbs according to the seasons.
Overview of the categories 🔎
Herbs for horses - Our product range:
Herbs for horses have a far-reaching and extensive effect. Accordingly, our range of herbal products is extensive and tailored to specific areas of action. In this way, we offer the best possible support for your beloved horse.
Herbs for horses can be processed and administered in various ways
Horse herbs can be fed fresh or dried. The herbs are processed through the digestive tract, and only a portion of the valuable ingredients can be absorbed through metabolism. Ready-made plant juices offer the advantage that the contained ingredients can be easily and directly absorbed into the metabolism. Additionally, liquid herbal juices can be fed easily if your horse does not eat the dried herbs.
The EWALIA range offers a wide selection
Different herbs have different effects. For example, rosehips contain a lot of vitamin C and strengthen the immune system. Thyme and ribwort plantain contain essential oils and mucilage, which strengthen the respiratory system. Yarrow contains tannins, which have an anti-inflammatory and astringent effect. The effects and applications of individual herbs are extensive. Therefore, herbal blends are functionally well-coordinated in their effects.
The community's favorites 🔥
Herbal Juices for Horses
Ewalia's herbal juices are optimally formulated for various bodily functions. Their gentle preparation ensures that valuable ingredients are preserved. Liquid form makes it easy to administer and is also suitable for weakened metabolism. With our range of herbal juices, you can support your horse's metabolism, strengthen their immune system, aid their musculoskeletal system, support their digestive system, and promote nerve and hormone health. This allows you to provide your horse with optimal support in all aspects.
Herbal Horse Treats
Whether during training or as a reward, treats are always welcome. With Ewalia's herbal treats, you can offer a healthy reward and choose from six delicious flavors. All of our horse treats are free from artificial colors and flavors, and we also offer grain-free options.
Herbal Horse Care Products
Herbs are also essential in horse care products. Whether you need healing calendula or soothing chamomile, Ewalia offers a wide range of products, from itch relief to insect repellent to hoof care.
Herbal Supplements for Horses
Our supplements provide a valuable addition to your horse's daily hay ration. By using our supplements, you can strengthen their immune system, aid their musculoskeletal system during training, and provide optimal mineral and vitamin support for young horses or pregnant mares.
Dein
EWALIA Produktberater für Pferde
Welcher Kräutersaft oder welches Zusatzfuttermittel ist für dein Pferd geeignet? Beantworte hierfür die folgenden Fragen und finde heraus, was für deinen Liebling das richtige ist.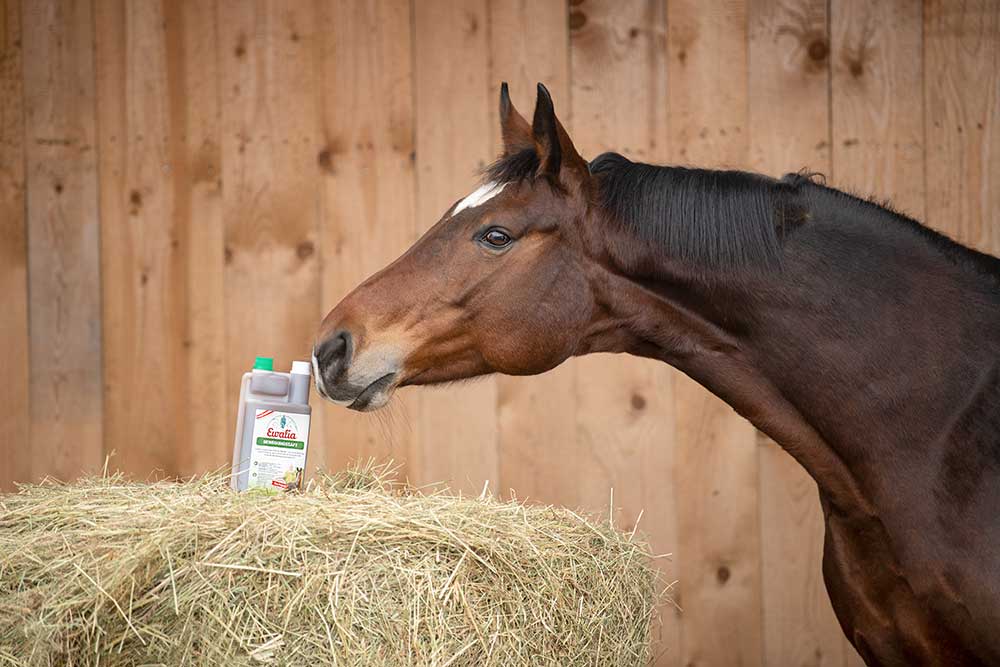 Question 1
Wie alt ist dein Pferd?
Question 2
Verrate uns das Geschlecht deines Pferdes?
Question 3
Wie oft bewegst du dein Pferd?
Question 4
Wobei können wir dein Pferd unterstützen?
Bewegungsapparat/Muskelaufbau
Bewegungsapparat/Muskelaufbau
Ergebnis
Basierend auf Ihren Antworten könnten Ihnen die folgenden Produkte gefallen. Falls Sie weitere Fragen haben, wenden Sie sich gerne an unseren Kundenservice.
Leider haben wir keine passenden Produkte gefunden, wenden Sie sich gerne an unseren Kundenservice.
Show product overview
What should you consider when purchasing herbs for horses?

When purchasing horse herbs, it is crucial to prioritize high-quality products. Just like other items, herbs can become old and go bad, develop mold and produce toxic substances, or become contaminated with pesticides from agricultural practices, all of which can negatively affect the herb's quality. At Ewalia, we use certified herbs that are of pharmacopoeial grade. This guarantees not only tested purity but also an active content of active ingredients. When feeding horse herbs, it is also essential to consider which bodily processes and organs each herb is intended to support. You can learn more about the specific effects of herbs in our herb lexicon. .