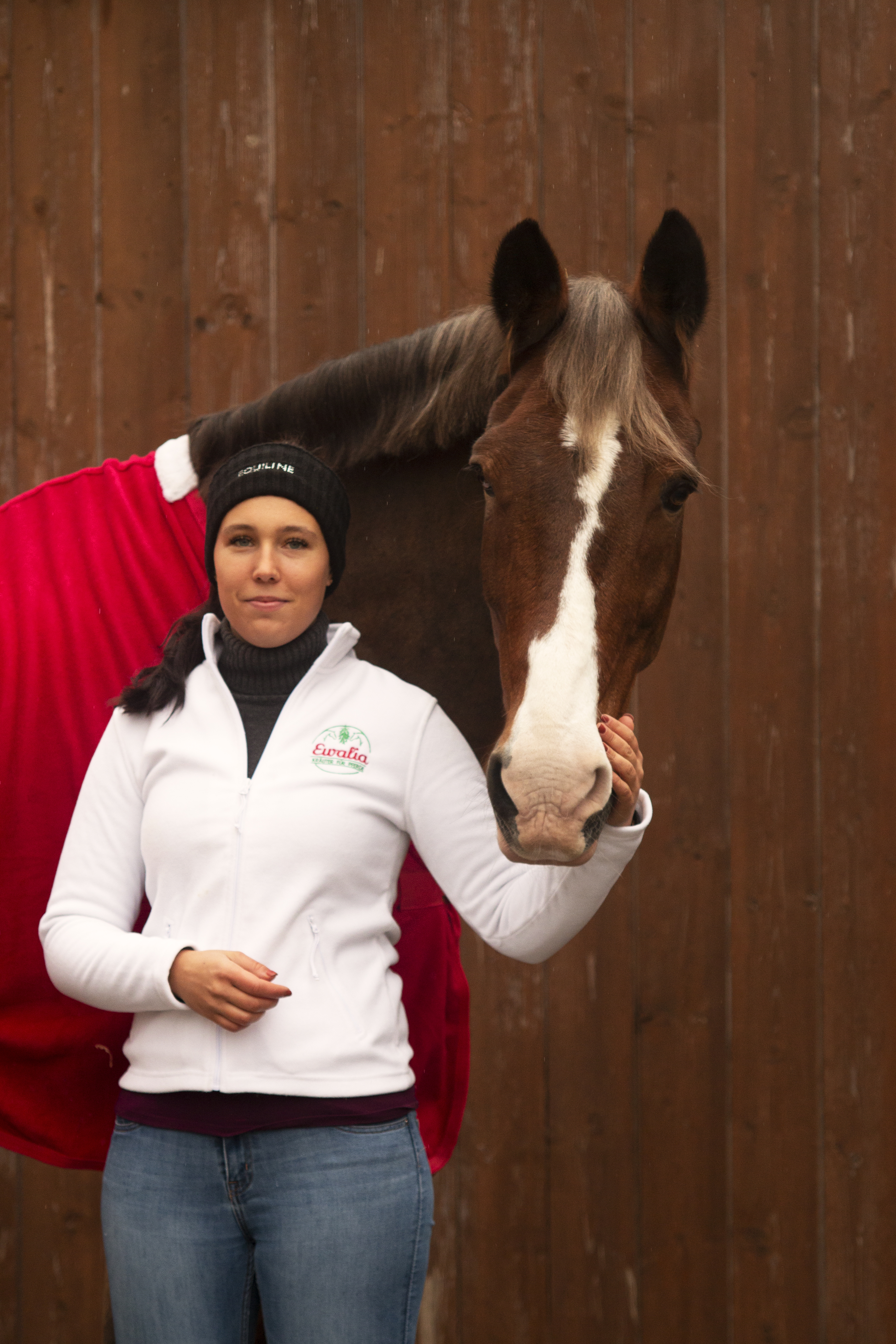 Jenny Marzek
Athletes

| | |
| --- | --- |
| | Favourite animal: Horses an dogs |
| | |
| | EWALIA in just one word: effective |
| | |
| | Favourite product: Gastro Care Liquid and Nerve Care Liquid |
| | |
| | Personal #: #trainfairorridehome #teamworkmakesthetreamwork |
About Jenny:

Jenny was 12 when she discovered her love for horses and equestrian sport. A few years of conventional school education made her realise that her heart belonged to dressage riding. At 18 her dream came true when Lord of the Dance came into her life. She worked weekends during her final year in school to finance her horse's upkeep, and nevertheless was successful in completing her studies. After continued successes at dressage shows, Jenny decided to turn her passion into a profession, and now she works as a dressage trainer in Lower Austria. Her top priority is on fair training and the fair handling of the animals.
About her horses:

Jenny's favourite has always been her bay gelding Lord of the Dance. Together they competed in dressage from class A to class S, and Jenny is very grateful to have him. He showed her that talent is not the sole deciding factor, but that hard work, patience, and much understanding can also bring success. Lord is now 26 years old and enjoying a somewhat more quiet life with light training and lots of affection.

The Hanoverian gelding Wanted helped Jenny to attain several wins and places up to class S and showed her how to ride with ease. Sadly, unexpectedly and much too soon, he was called over the Rainbow Bridge after a serious illness. The death of the handsome chestnut gelding has left a great hole in Jenny's heart.
Greatest achievements:

Second place in the Lower Austria Indoor Championships for Young Riders (2014), Bronze in Lower Austria State Championships for Young Riders (2015), Bronze in Lower Austria State Championships for Young Riders (2016)
Favourite Ewalia product:

The Gastro Care Liquid! Lord of the Dance often suffered from gastritis, but since taking Gastro Care Liquid he's been symptom free. And after that, Jenny had complete trust in Ewalia products.
Dear Jenny, we wish you all the best for your future, and many more happy moments with horses and riders from which you will grow as well!