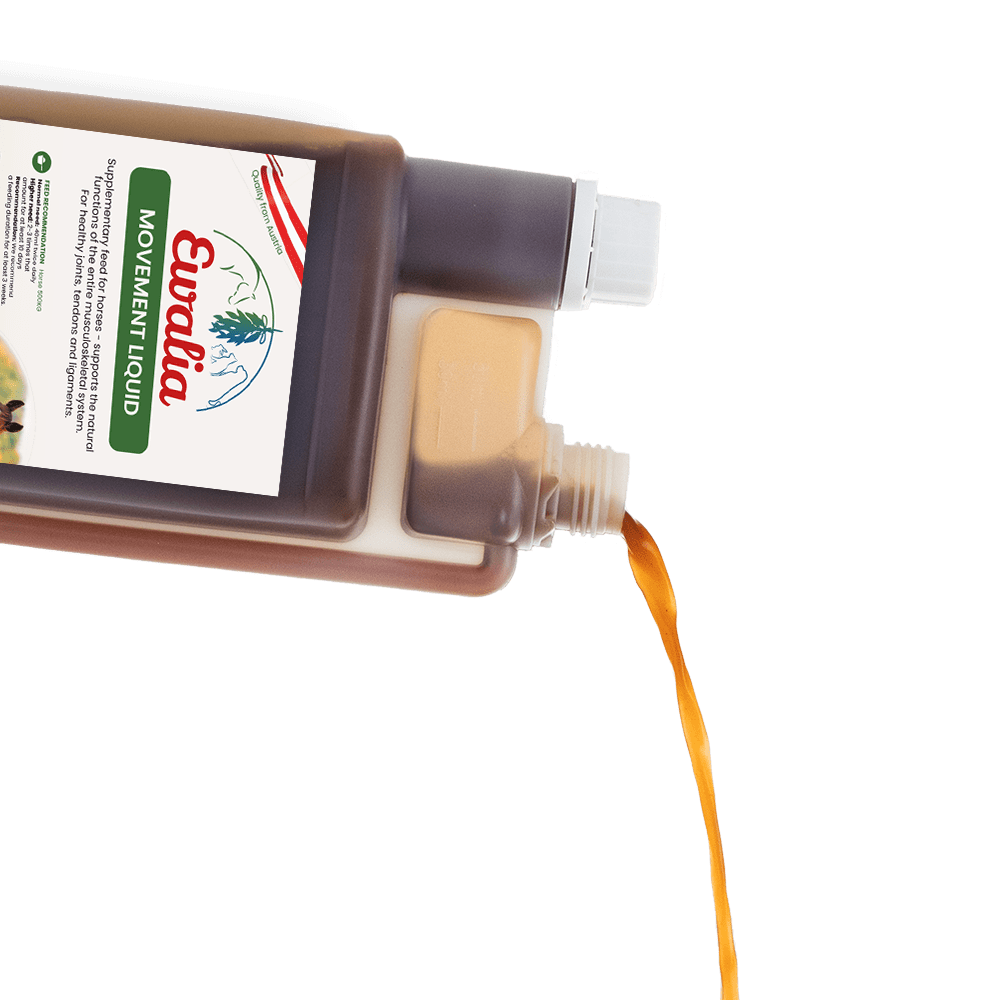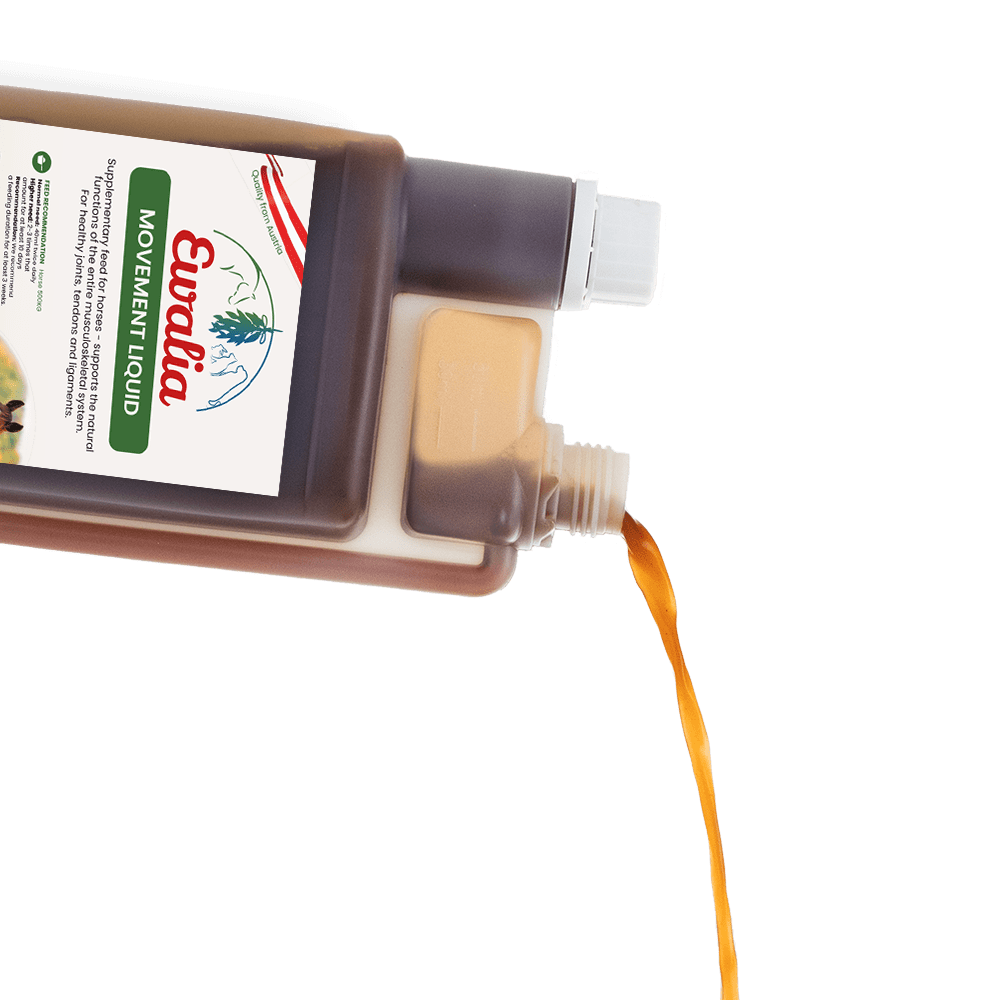 EWALIA Movement Liquid for horses 1L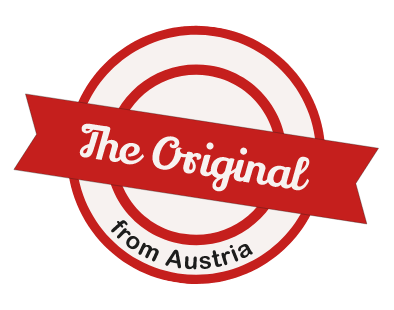 for free movement

supports muscles and joints

for energy in training periods
1 piece

€17.99*

From

3 piece

€14.99*

From

6 piece

€13.99*
Available, delivery time 1-3 business days
You get 1 bonus points for this order
EWALIA Movement liquid for horses
Supplementary feed for horses - supports the natural functions of the entire musculoskeletal system. For healthy joints, tendons and ligaments.
Feed Recommendation (Horse 500kg) 👌

We recommend a feeding duration for at least 3 weeks.
Normal need: 40ml twice daily
Higher need: 2-3 times that amount for at least 10 days
Composition
dandelion leaves,
dandelion root,
devil's claw,
downy hemp nettle,
rosemary,
stinging nettle,
willow bark
Free of
added sugar,
coloring agent,
preservatives
Analytical components
| | |
| --- | --- |
| Moisture content | 98,00% |
| Crude protein | 0,5% |
| Crude fat | 0,4% |
| Crude ash | 0,6% |
| Crude fibre | 0,5% |
| Sodium | 0,004% |
The ingredients explained
dandelion leaves
The meadow gold with the strength of a lion
dandelion root
The multitalent of roots
devil's claw
To improve mobility
downy hemp nettle
The invaluable wayside herb that supports connective tissue development
rosemary
Stimulates mental clarity and physical suppleness
stinging nettle
The universal healing herb
willow bark
The natural aspirin
---
Den Bewegungssaft füttere ich seit 6 Monaten bei einem fast 23-jahrigen Haflinger. Ich bin angenehm überrascht, der Saft wirkt schon recht schnell und die Dame ist wirklich gut unterwegs. Die Leber-Nierenkur habe ich auch probiert und bin auch davon sehr überzeugt. Da das Pony ein ECS-Pferdchen ist, muss man schon schauen was man da so füttert. Einer Freundin habe ich auch den Leber-Nieren-Saft wegen des Ekzems ihrer Stute empfohlen. Sie war total begeistert. O-Ton: Die Stute hat im Sommer noch nie so gut dar gestanden. Auch sie probiert jetzt den Bewegungssaft über mich aus. Die Produkte von Ewalia haben mich total überzeugt. Nicht nur in ihrer Wirkung sondern auch im Preis-/Leistungsverhältnis. Macht bitte weiter so.....Danke !
I finished feeding the first 2...
I finished feeding the first 2 bottles of movement liquid by now and I am stoked about the effects. My 25 year old senior horse is way more enthusiastic about movement in general and does not need that much time to warm up anymore.
Sinds een half jaar krijgt mijn merrie met extreem spat de Movement Liquid aangezien ze ook PSSM heeft was ik wat voorzichtig .. maar het moet gezegd ze beweegt veel soepeler maakt rare sprongetjes en ik zie haar regelmatig over de track rennen.. Na deze positieve ervaring ben ik een kleine week geleden begonnen om onze oude man van bijna 28 jaar dagelijks een dosis te geven… hij krijgt problemen om te gaan liggen… trillende/ klapperende achterbenen bij het neer gaan.. waardoor hij regelmatig besloot om te blijven staan… Dit weekend heeft hij onze man weer languit gelegen … en als bonus heeft hij liggen rollen in de weide…. Blij mee!!
Hallo Dann habe ich noch den B...
Hallo Dann habe ich noch den Bewegungssaft getestet. Mein Wallach mit spat läuft damit besser wie je zu vor. Er hatte vorher 3 Jahre MSM bekommen als Saft. Aber euer Saft Topt das echt nochmal ich bin einfach nur begeistert. Auch er bekommt es nur 1x tgl so 60-80 ml je nachdem wie er beim reiten so drauf war. Ihr bekommt es auch seit über 7 Wochen und auch hier mag ich es Gar nicht absetzten. Fazit: wow was man mit Kräutern machen kann. Beide Säfte wirken top. Ich kann mich null Beschwerden. Das Preisleistungsverhältnis passt und aktuell bekommt unser Hund auch den Bewegun"gssaft für Hunde. Ich hoffe das dort das genauso gut anschlägt wie bei meinen Pferden.
Ich habe den Bewegungssaft get...
Ich habe den Bewegungssaft getestet und konnte eine sehr positive Wirkung bei meinem Arthrose-Pferd feststellen.
herzlichen Dank nochmals für I...
herzlichen Dank nochmals für Ihre Hilfe! Der Bewegungssaft war echt super...mittlerweile läuft mein Blondschopf wieder Beschwerdefrei!!! :-)
Ich füttere meinem 16 jährigen...
Ich füttere meinem 16 jährigen Wallach seit ein paar Wochen den Ewalia Leber-Nierensaft und den Bewegungssaft und bin begeistert! Mein Pferd hatte seit über einem Jahr eine starke Schwellung am Sprunggelenk die ich selbstverständlich vom Tierarzt abklären ließ, Röntgen aber ohne Befund. Lahm war er zu keiner Zeit. Es handelt sich um einen gestörten Gelenkstoffwechsel und das Problem war nicht in den Griff zu bekommen. Ich konnte es kaum glauben, als ich vor einigen Tagen in den Stall kam und das Gelenk war fast dünn. Die Schwellung ist deutlich zurück gegangen ich bin begeistert!
Unserem Showi geht es mit dem ...
Unserem Showi geht es mit dem EWALIA Bewegungssaft viel besser als früher. Er wird wieder gerne geritten und geht wieder super vorwärts. Er hat so Spaß an der Arbeit, dass mein Mann nun sogar wieder an Turnieren mit ihm teilnehmen will. Danke!
Ich habe da jetzt die ersten 2...
Ich habe da jetzt die ersten 2 Flaschen vom Bewegungssaft verfüttert, es ist echt enorm in der Wirkung. Mein Senior mit seinen 25 Jahren läuft echt besser mit kürzerer Einlaufphase.
Der Bewegungssaft ist super !!...
Der Bewegungssaft ist super !! Er tut meiner Stute mit Athrose / Spat und einem Athroseei am Karpalgelenk so richtig gut. Sprunggelenke sind viel klarer geworden und sind nicht mehr geschwollen und sie mag sich wieder viel lieber bewegen.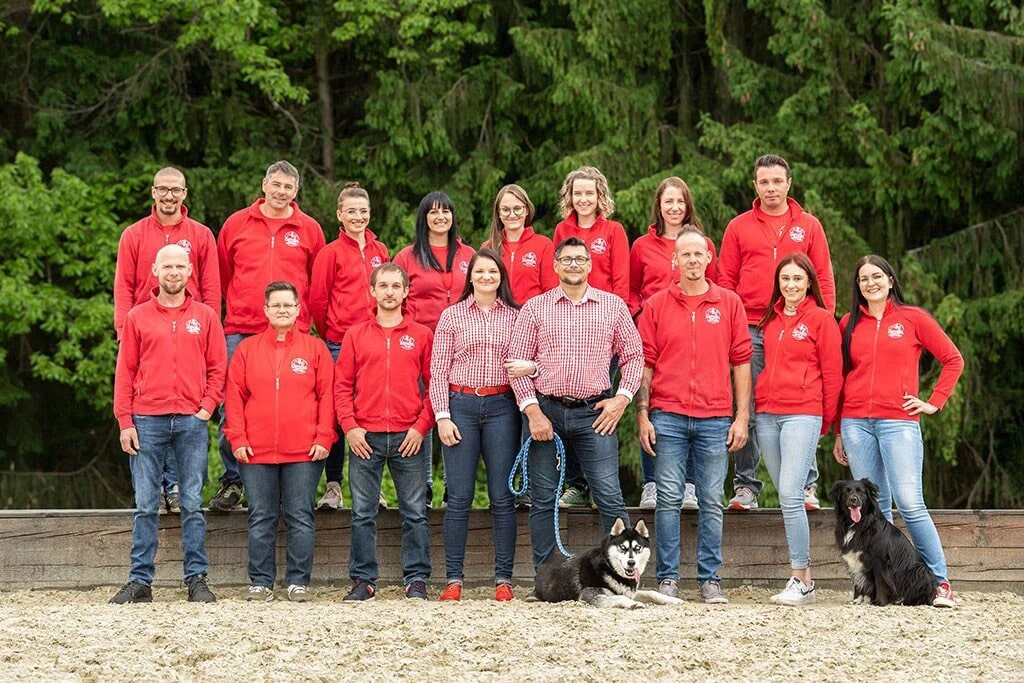 Our promises to you
For us, the well-being of animals & human first. Ewalia was born out of the plight of one of our horses suffering from a chronic cough. Since then we have been lovingly manufacturing natural products made from the best, natural ingredients - and that will always be the case. If you have any questions, we are always at your disposal.
{# Trusted Shops Scripts#}