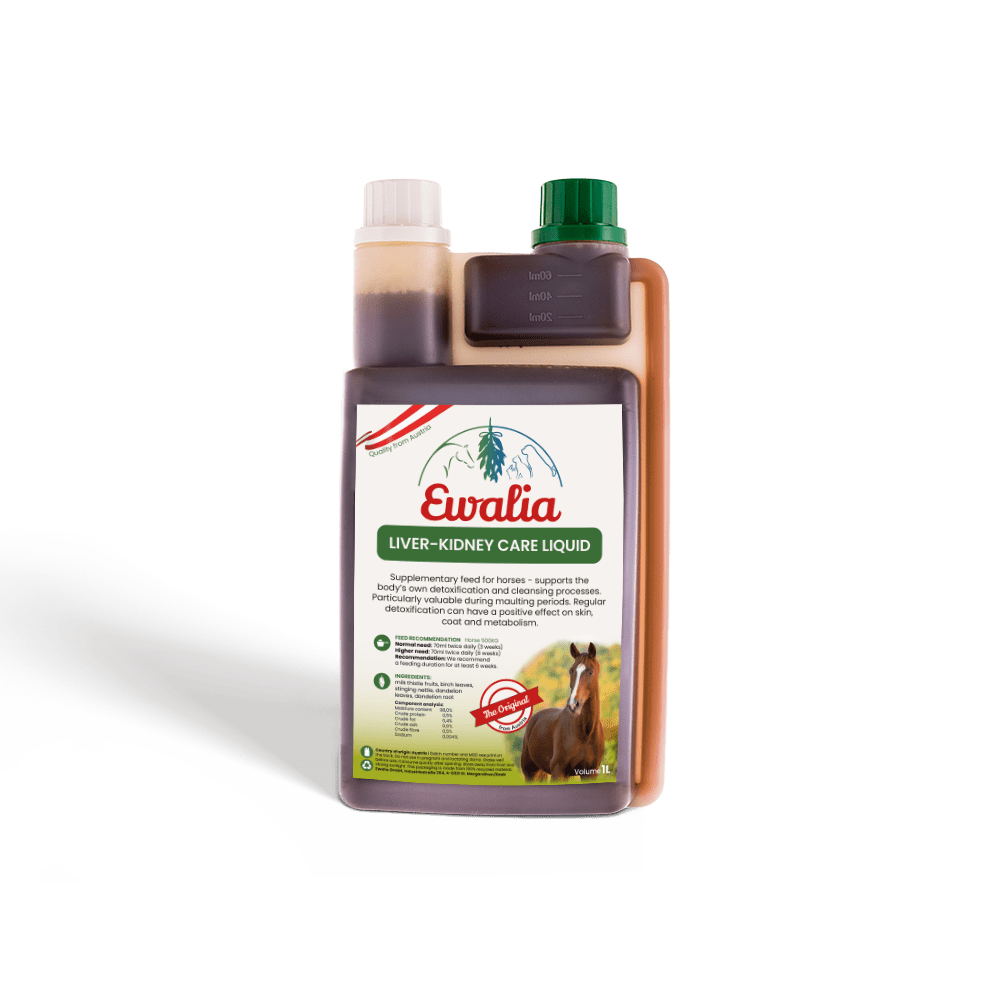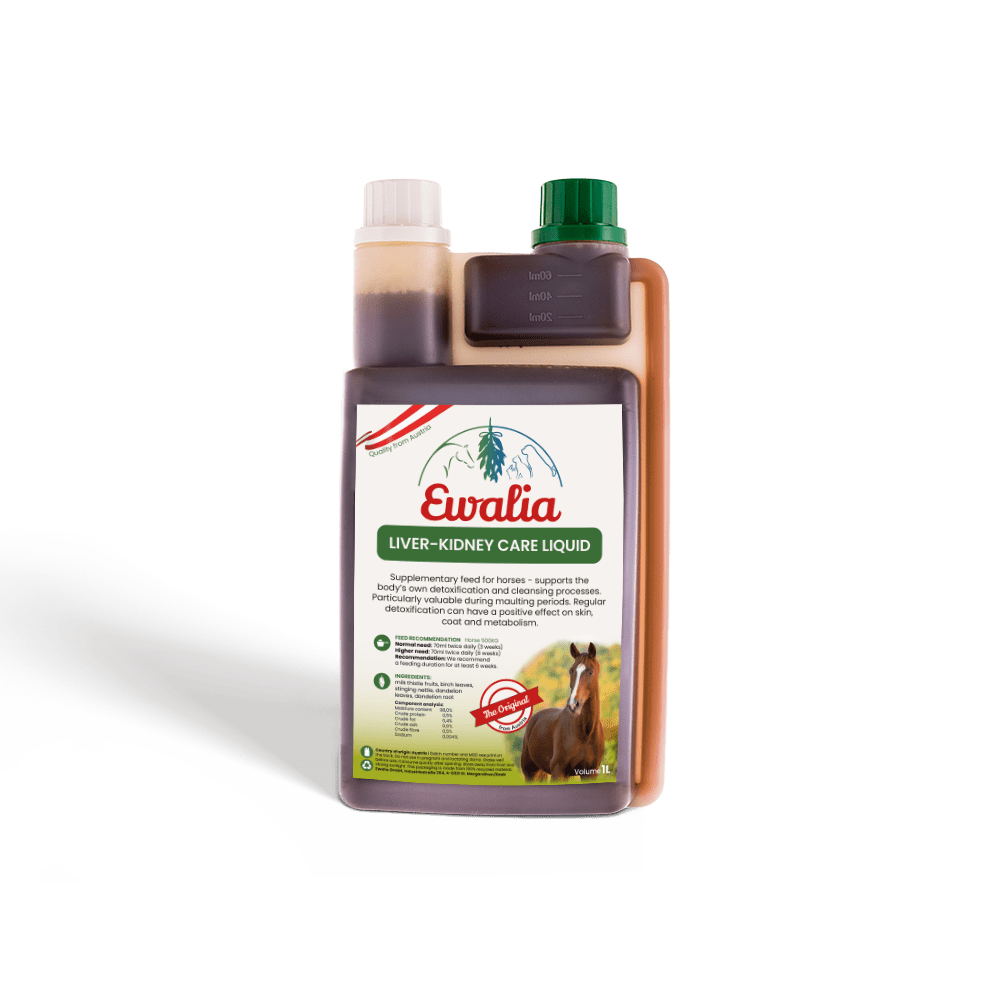 EWALIA Liver-Kidney Care Liquid for horses
with the power of milk thistle

supports natural metabolic function

with stimulating detox herbs
1 piece

€19.99*

From

3 piece

€18.49*

From

6 piece

€17.49*
Available, delivery time 1-3 business days
Min. 1x muscle juice FREE!*
Simply add 3, 6 or 9 muscle juices to your cart and the system will automatically add 1, 2 or 3 free bottles.
ℹ: This offer is valid from 17.07. to 25.07.2023 inclusive as part of our "3 plus 1 free" weekly promotion.
EWALIA Liver-Kidney Care Liquid for horses
Supplementary feed for horses - supports the body's own detoxification and cleansing processes. Particularly valuable during maulting periods. Regular detoxification can have a positive effect on skin, coat and metabolism.
Feed Recommendation (Horse 500kg) 👌

We recommend a feeding duration for at least 3 weeks.
Normal need: 70ml twice daily (3 weeks)
Higher need: 70ml twice daily (6 weeks)
Composition
birch leaves,
dandelion leaves,
dandelion root,
milk thistle fruits,
stinging nettle
Free of
added sugar,
coloring agent,
preservatives
Analytical components
c
| | |
| --- | --- |
| Moisture content | 98,00% |
| Crude protein | 0,5% |
| Crude fat | 0,4% |
| Crude ash | 0,6% |
| Crude fibre | 0,5% |
| Sodium | 0,004% |
The ingredients explained
birch leaves
For better kidney cleansing
dandelion leaves
The meadow gold with the strength of a lion
dandelion root
The multitalent of roots
milk thistle fruits
The queen of liver-healing herbs
stinging nettle
The universal healing herb
---
My arabian horse Shaman ...
My arabian horse Shaman suffered from equine sarcoid around his mouth, neck and under his shoulders. Nothing helped in the long run until I tried Ewalia Liver-Kidney Care Liquid. After the cure the old sarcoids are gone and nothing new appeared. He has been super picky always, but really likes the taste of the Ewalia Liquids.
Ich habe den Leber-Nieren-Saft im Fellwechsel für einen meiner alten Ziegenböcke (reine Hobbyhaltung) gekauft. Der Bock hat im Sommer eigentlich weißes Fell, er hatte dieses Jahr große Probleme damit, den Winterpelz abzuwerfen und stand noch im heißen Juli mit den restlichen braunen Winterzotteln vor mir. Ich konnte bürsten und kämmen, wie ich wollte, es ging einfach nicht raus. Irgendwann ist mir der Saft wieder eingefallen und ich habe ihn bestellt. Nach zwei Tagen Fütterung des Saftes war der Ziegenbock fast reinweiß und glänzte, eine Woche später war auch das letzte braune Winterhaar endlich verloren. Dass der Saft hilft, war mir von vorneherein klar (war nicht die erste Anwendung), aber dass es so schnell und so deutlich funktioniert, hat mich doch nochmal positiv überrascht. Nächstes Jahr werde ich früher mit der Fütterung des Saftes beginnen, damit er seinen Winterpelz nicht wieder so lange mit sich herumträgt.
Ich hab die 6 Wochen Kur ...
Ich hab die 6 Wochen Kur Leber-Nierensaft auch gemacht. Wir haben dieses ganze Jahr noch keine Probleme gehabt. Trägt allerdings auch eine Decke aber es ist NICHTS zu sehen. Letztes Jahr um die Zeit war es ganz ganz schlimm.
Ich habe über einen Zeitraum von 6 Wochen den "Leber- und Nierensaft" zu gefüttert und bin absolut begeistert. Obwohl meine Stute eine sehr wählerische Fresserin ist (gerade in Bezug auf Mineralfutter oder Kräuter), kann ich nur sagen, dass sie es die ganze Zeit gerne gefressen hat. Die Kur war bei uns rein Pro-Forma, das mache ich 1 - 2x jährlich und fahre sehr gut damit. Wir kamen problemlos und zügig durch den Fellwechsel, dass Fell glänzt und ich freue mich, mein Pferd in einem solchen Glanz zu sehen. Vielen Dank.
Wirkungsvoll und einfach in ...
Wirkungsvoll und einfach in der Handhabung
Unglaublich tolles, höchst wirksames Produkt!
Nach einer Kolikbehandlung wollte ich meinen Rentner mit seinen 31 Jahren schonend von den Medikamenten entgiften. Der Leber-Nierensaft hat ihm innerhalb von kürzester Zeit unglaublich gut getan! Nicht nur, dass es ihm wieder deutlich besser geht und er sehr vital und aufgeweckt wird, seine langjährigen Beschwerden sind weg! So hatte er - egal ob Sommer oder Winter - immer dick angeschwollenen Beinen zu tun: Die Beine sind jetzt wieder völlig klar und dünn! Zudem hatte er seit längerem Probleme mit Harnabsetzen zu tun, immer nur ganz kurz und wenig. Jetzt kann er wieder ganz normal pinkeln! Für mich ein grandioses Produkt - und das auch noch von einem österreichischen Unternehmen, toll! Ich werde den Leber-Nierensaft jetzt auf jeden Fall auch meinen drei anderen Warmblütern als Kur geben. Ich bin begeistert!
Der Leber-& Nierensaft tut ...
Der Leber-& Nierensaft tut meinem Pony total gut, sie baut wieder auf, ist total locker und ganz anders als früher ist ihr Blick wieder viel aufgeweckter.
Ik ben ook geen vriend van ...
Ik ben ook geen vriend van reclame, maar na 30 jaar paardenervaring moet ik iets" promoten " dat ik een paard moest voeren. Het Liver-Kidney Care Liquid als kuur is geweldig! Een Onverslaanbare prijs en super kwaliteit en je herkent je paard niet meer.
I am not a big fan of ...
I am not a big fan of advertising, but this is the first thing is want to recomment after 30 years of horse experience. I needed to cocker up a horse and used Liver-Kidney Care Liquid with an awesome result. The quality is great and the price unbeatable. Feed you're horse a major cure and you won't recognize it in a positive way.
Ich hatte vor zwei Monaten ...
Ich hatte vor zwei Monaten bei ihnen einige Säfte bestellt und war sehr zufrieden. Der Leber-Nierensaft hat meinem Wallach extrem gut getan. Er glänzt wie Seide, und ist endlich wieder richtig Dunkelfuchs.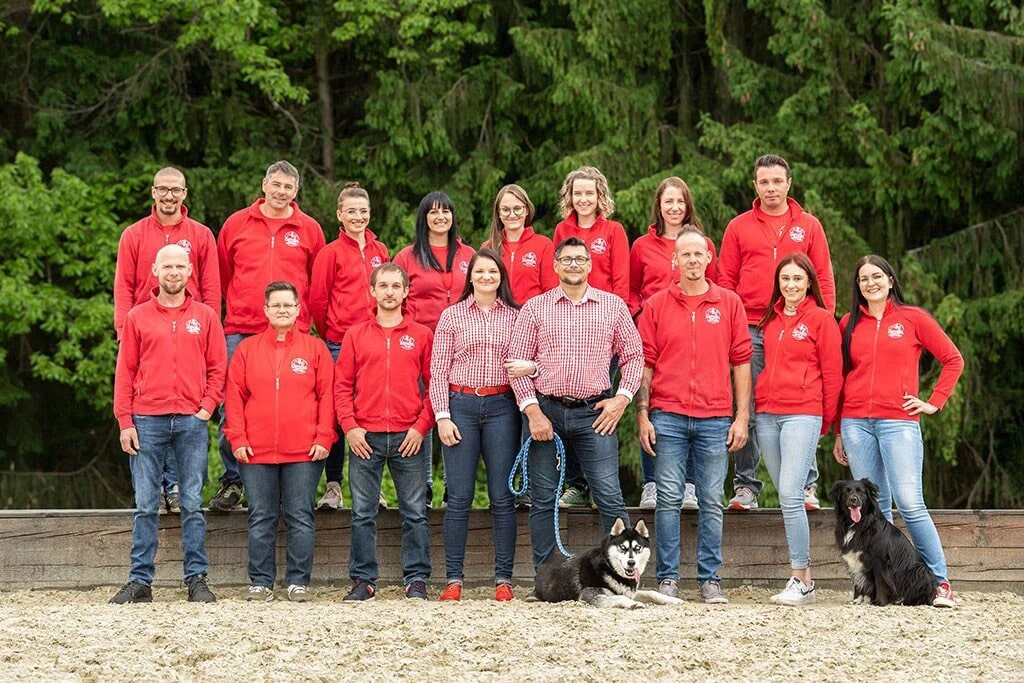 Our promises to you
For us, the well-being of animals & human first. Ewalia was born out of the plight of one of our horses suffering from a chronic cough. Since then we have been lovingly manufacturing natural products made from the best, natural ingredients - and that will always be the case. If you have any questions, we are always at your disposal.