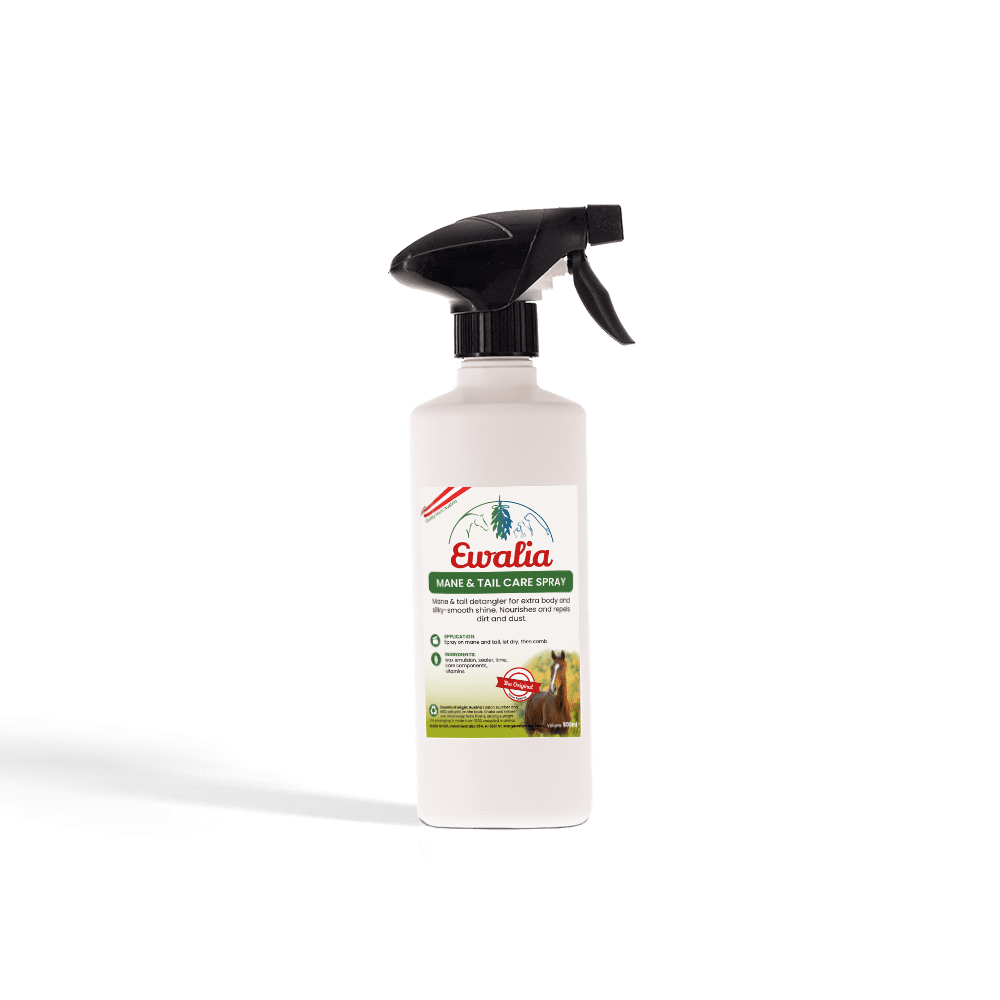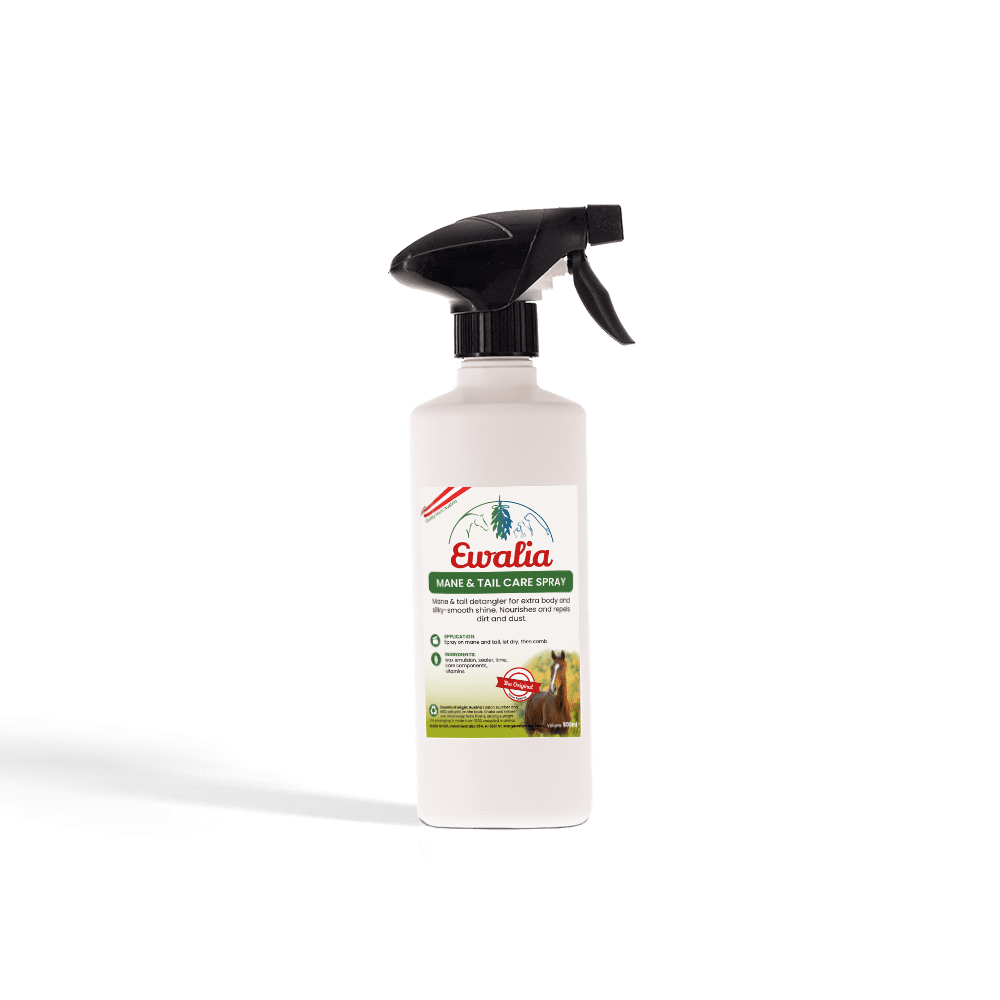 EWALIA Mane & Tail Care Spray for horses 500ml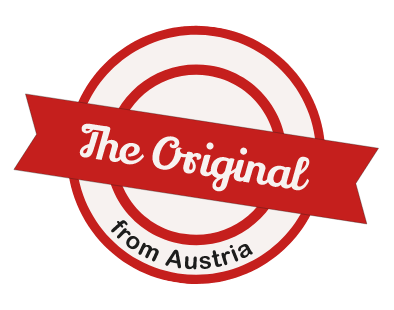 for more volume

for silky, shiny manes

supplementary care
Available, delivery time 1-3 business days
You get 1 bonus points for this order
EWALIA Mane & Tail Care Spray for horses
Mane & tail detangler for extra body and silky-smooth shine. Nourishes and repels dirt and dust.
APPLICATION Spray on mane and tail, let dry, then comb.
Composition
care components,
lime,
sealer,
wax emulsion
Free of
chemical preservatives,
coloring agent
The ingredients explained
care components
Sorgt für sanfte Pflege und seidigen Glanz
lime
die zitronige Duftkomponente aus natürlichem Limonenöl für einen erfrischenden Duft
sealer
Verschließt die brüchige Haarstruktur und sorgt für Fülle und Volumen
wax emulsion
Natürliche Wachse sorgen für Pflege und Schutz
---
De Mane & Tail Care Spray ...
De Mane & Tail Care Spray maakt de manen van mijn fries heel erg glad en zacht. Het is ook veel gemakkelijker te kammen dan voorheen. Het vereenvoudigt de verzorging voor mij enorm en bespaart dus tijd en zenuwen.
Coconut - Monoi Shampoo is a ...
Coconut - Monoi Shampoo is a nice one. My horse is super sensitive and has some issues skin-wise after washing in general, but he tolerates Ewalia Coconut - Monoi Shampoo very well, as it is a natural product. I also use it for my own hair, and they are less greasy now.
Schimmelhaut reagiert schnell gereizt und Ewalia riecht nicht nur sehr angenehm, es ist auch mild. Ich sprühe und bürste den weißen Schweif 3x wöchentlich. Wenn er mal gelb oder matschig aussieht, tauche ich den Schweif in einen kleinen Wassereimer, ein wenig im Wassser bewegen, abtropfen und an der Luft trocknen lassen. Das Wasser sieht danach echt eklig aus - sein Schweif trocknet weiß und glänzend. Diese Schweifpflege empfehle ich SEHR GERNE und mein Schimmel auch.
Am Wochenende habe ich zum ...
Am Wochenende habe ich zum ersten Mal euer Shampoo und die Langhaarpflege ausprobiert. Ich muss sagen ich war wirklich sehr überrascht wie toll beide Produkte wirken. Normalerweise ist es eine wahre Herausforderung Mähne, Schweif und Füße meines kleinen Dreckspatzen sauber zu bekommen. Dank eures Shampoos gingn das diesmal aber ohne Probleme. Auch die Langhaarpflege finde ich super. Eigentlich brauche ich fast eine ganze Flasche Mähnenspray um durch die dichte Mähbe und Schweif auch nur ansatzweise durch zu kommen. Wirklich nur eine kleine Menge der Lotion hat ausgereicht um locker durchbürsten zu können und das beste ist das die Wirkung noch immer anhält.Beide Produkte sind wirklich der Hammer und nur weiter zu empfehlen. Und ganz nebenbei riechen sie auch noch super
Tolles Produkt und empfehlenswert
Seit 2 Wochen habe ich jetzt das Schweif- und Mähnenspray in Verwendung und ich bin positiv überrascht. Anfangs war ich etwas skeptisch beim Geruch, weil es für mich ziemlich stark nach Zitrone riecht, aber dann habe ich gemerkt, dass dadurch die Fliegen und Stechmücken wegbleiben (für meinen Ekzemer eine tolle Erleichterung). Nach kurzer Einwirkzeit lässt sich der Schweif sehr leicht bürsten, egal ob nass oder trocken. Seitdem bleibt der Dreck auch nicht mehr so leicht im Schweif hängen. Das Schweif- und Mähnenspray kann ich nur empfehlen
Der Schweif- & Mähnenspray ...
Der Schweif- & Mähnenspray macht die Mähne meines Friesens richtig toll geschmeidig und weich. Auch lässt sie sich deutlich besser kämmen als zuvor. Vereinfacht mir die aufwändige Pflege sehr und erspart mir Zeit und viele Nerven gg
Mane & Tail Care Spray does a ...
Mane & Tail Care Spray does a great job on my frisian horses mane. It's so soft and I can comb it easily, therefore I save a lot of time and energy ;).
Ich habe das Produkt hauptsächlich an unseren Haflinger-Pferden verwendet und bin mit dem Ergebnis mehr als zufrieden! Besonders positiv ist mir die schmutzabweisende Wirkung des Produktes aufgefallen: das Langhaar blieb deutlich länger sauber, kleinere Verschmutzungen konnte man bei regelmäßiger Anwendung gut und ohne viel Aufwand ausbürsten. Schweif und Mähne sind nach dem Aufsprühen leicht zu kämmen/verlesen, das Produkt ist hierbei auch sehr ergiebig und der seidige Effekt hält wirklich mindestens 3 Tage, ohne eine weitere Anwendung, an. Positiv aufgefallen ist mir auch der natürliche, erfrischende Geruch, sowie die gute Verträglichkeit auch an offenen Hautstellen bei Pferden mit Sommerekzem. Die Verpackung wirkt sehr hochwertig und ansprechend gestaltet, hierbei würde ich mir jedoch einen anderen Sprühkopf wünschen (unserer war etwas undicht, auch beim Aufsprühen tropfte er etwas; toll wäre einer mit "fixen Einstellungen": Off, Strahl, Spray). Wir werden das Produkt dauerhaft in unseren Putzkoffer aufnehmen :-)
De Coconut-Monoi Shampoo is ...
De Coconut-Monoi Shampoo is geweldig. Mijn paard is zo gevoelig en krijgt eigenlijk na elke wasbeurt puisten op zijn lichaam, maar hij verdraagt de natuurlijke shampoo van EWALIA heel goed. Ook gebruik ik het voor mijn eigen haar en ze worden daardoor veel minder snel vet :-)
Bei meinem Pferd kein Erfolg
Mein Pferd hat dichtes Langhaar und er steht den ganzen Tag auf der Koppel. Dementsprechend sieht sein Schweif manchmal aus - erdig und im Spätsommer mit Kletten verfilzt. Obwohl ich mit anderen Ewalia-Produkten gute Erfahrungen gemacht habe, muss ich sagen, dieser Schweifspray hat mich nicht überzeugt. Wir haben sehr viel davon gebraucht und es hat nicht den gewohnten Erfolg gebracht. Wir sind wieder auf eine andere Marke umgestiegen.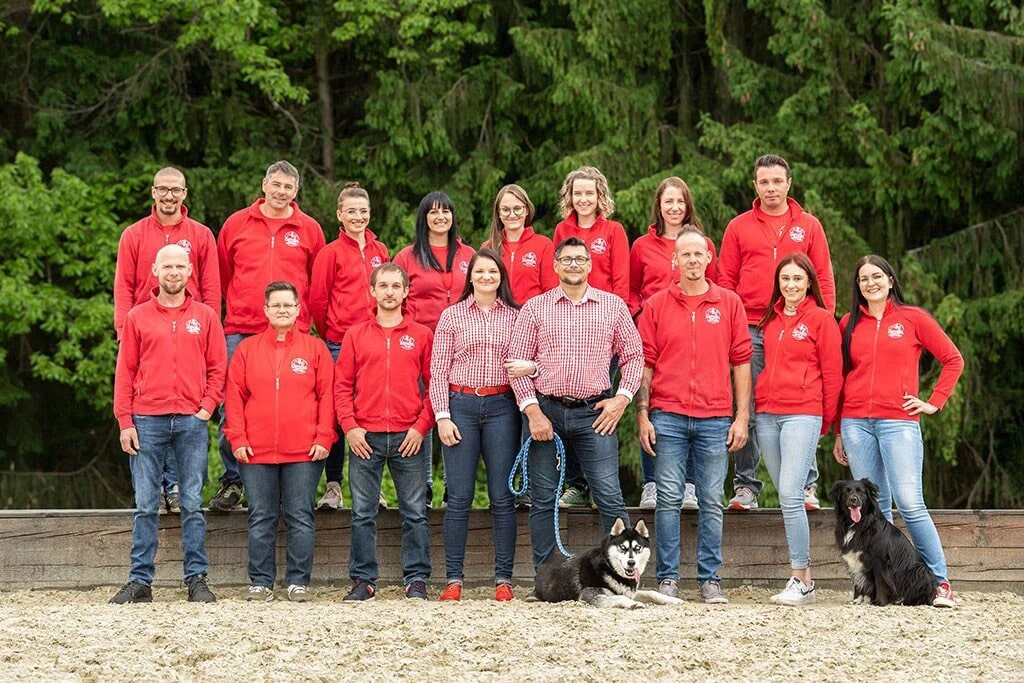 Our promises to you
For us, the well-being of animals & human first. Ewalia was born out of the plight of one of our horses suffering from a chronic cough. Since then we have been lovingly manufacturing natural products made from the best, natural ingredients - and that will always be the case. If you have any questions, we are always at your disposal.
{# Trusted Shops Scripts#}